Most experts predict that following a seven-year period of economic growth the US economy is headed towards a recession (most likely sometime in 2020). But while The Great Recession devastated the housing market, house shoppers remain optimistic about how the market will handle a potential recession in the coming years.
According to a recent survey from Realtor.com, nearly 70 percent of home shoppers said they expect a recession to hit the US economy sometime in the next three years (by 2022). But despite the fact that most believe a recession is looming, many remain optimistic about the housing market, with 41 percent of home shoppers predicting the market would fare better than it did in 2008.
The experts agree. "When the U.S. enters its next recession, it is unlikely that the housing market will see a sharp nationwide downturn. The same record low inventory levels that have made buying a home so difficult recently will likely protect home prices in the next recession," said Realtor.com's chief economist Danielle Hale in the article.
Recession Indicators
1. 30 Year Mortgage Rates
Looking at data by FRED held by the St. Louis Federal Reserve, current mortgage rate activity is exhibiting repeat behavior. The current rates are almost a full point above the trailing 12 quarter average.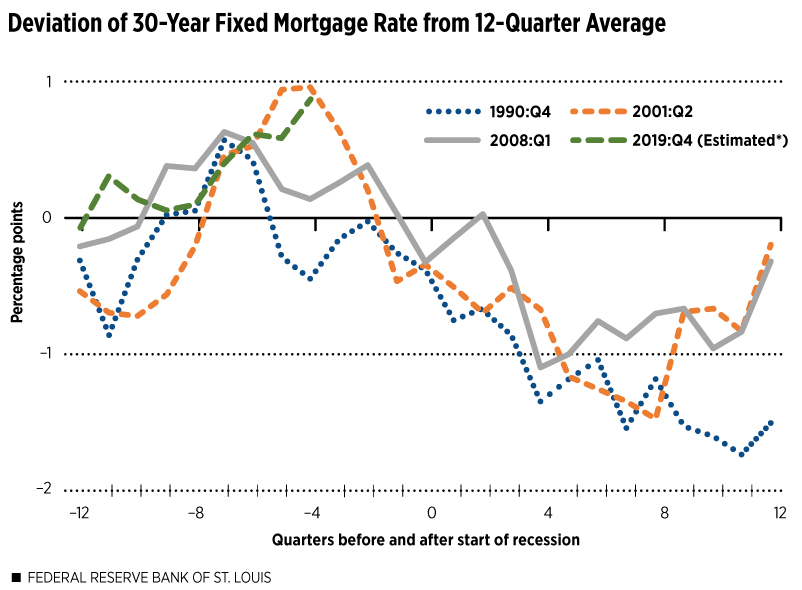 The historical takeaway is that, in the waning moments of an economic expansion (the type we've been experiencing for a decade), the interest rates see a sharp uptick. Correlation is certainly not causation, but certainly an indicator to watch.
2. Existing Home Sales
The existing home sales have been strong for the last five years. Tightened inventory, low interest rates, and buyer optimism has produced double digit price increases year over year. Looking local to Orlando, last year the area was closing 3500 homes per month. This year has started sluggish just eclipsing 2400 homes closed in February of 2019; the newest data for March shows 3100 homes closed – an 11% drop year over year.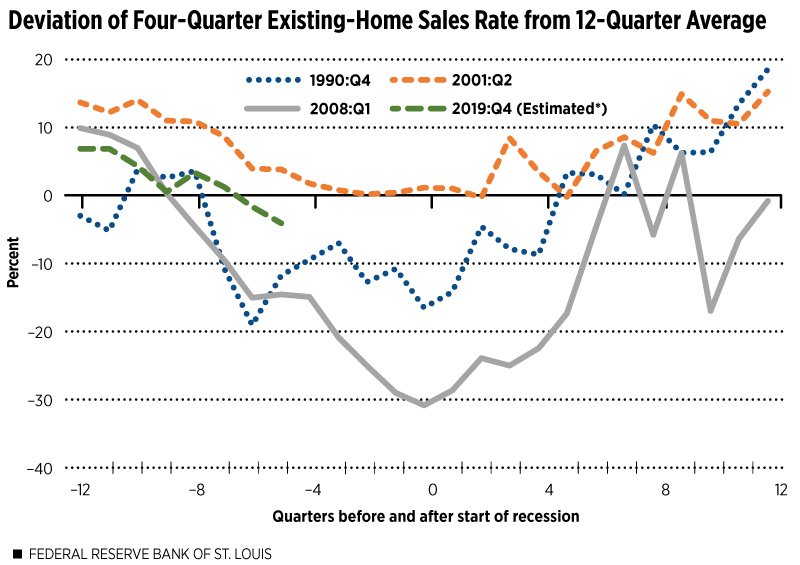 Anecdotally, much of my client base is EAGER to buy homes. But financial restrictions and inability to save makes it difficult to bring cash to closing. These are factors of Orlando we face: increasing rents, low median wages, and a skills gap between the high paying jobs and what exists in the labor force. In fact, in terms of home affordability, Orlando was just ranked as the LEAST affordable city in the nation.
Buyer optimism is still quite high, even with talk of a recession on the horizon. Many of my clients are just barely priced out of the market and a small dip in prices could prove fruitful for many of them to experience home ownership!
3. Real House Prices
Real house prices, that is to say inflation adjusted, typically show a sharp decline at the end of an economic expansion. We haven't seen this too intently in the data. Orlando just reported a 2% increase year over year from last March. But nationally, we are starting to see a slight downward trend. This certainly won't be a sharp decline – which is why buyers should remain optimistic – but the indicators are closely resembling the 2001 recession when the housing prices dipped, but not notably.
The Takeaway
The key indicators in housing are warning that we might be on the tail end of an expansion. The bright side of that is that they highly resemble the 2001 Recession. Why is that a bright side? The unemployment rate was 5.7% at the end of the recession – two points higher than our natural rate of unemployment. For comparison, the Great Recession faced 10% unemployment at its peak and even four years later was near 8%. The 2001 downturn had unemployment back down do 4.5% four years later.
This isn't to say all indicators are doom and gloom. Residential construction increased 7% year over year in 2018. That's a good sign as it means builders are looking to expand their holdings. Plus, as the survey noted, homebuyer optimism is very positive. The fact that this recession looks to be mimicking the 2001 is also good news. Total home sales during that recession dropped approximately 500 total sales per month starting in February of 2001, but were fully recovered by April of 2002.
Personally, I'm still very positive about the real estate market in the area. It's worth knowing what's on the horizon, but nothing is showing that it will be an aggressive downturn. And that's a good thing for both buyers and sellers.
If you're thinking about buying, interest rates are currently at a historic low! It would be smart to lock in now. With a flat downturn looming, price depreciation won't be strong so there won't be reason to wait. If you're considering your options to buy or sell, let's chat. Check out my buyers or sellers page and fill out one of the easy to use contact forms on the pages!